3M Scotchcal Vinyl Computer Cut Lettering From Paragon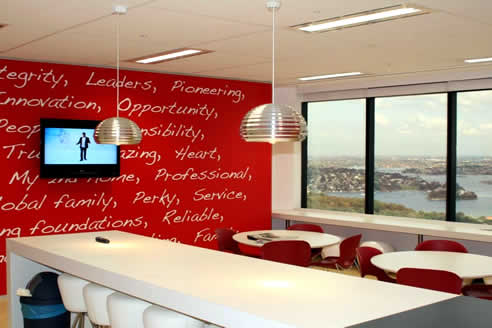 Using 3M Scotchcal vinyl films which can be computer cut providing attractive solutions in the form of lettering or logos. Paragon uses the latest technology to enhance and transform the entire look of your office.
The films can be applied to almost any smooth surface such as painted gyprock, timber, aluminum, glass, acrylic or polycarbonate and is warranted for indoor and outdoor use. 3M Scotchcal vinyl films come in a wide variety of colours and can be used in any combination. The films can be removed quickly and easily as needs change without any damage to the surface.
Some common Installations include;
Office and reception signage.
Partitions.
Company slogans or catch phrases.
'Inspirational' phrases.
Safety visibility strips and decals.
Shop signage.
Advertising.
Vinyl lettering to wall.
Computer cut logo to wall.
Paragon can assist you with;
Product advice and technical specification.
Cost estimates, site inspections and quotations.
Timely installation within deadlines through to complete project management.
After sales service.