Office Partitioning & Wall Graphics By Paragon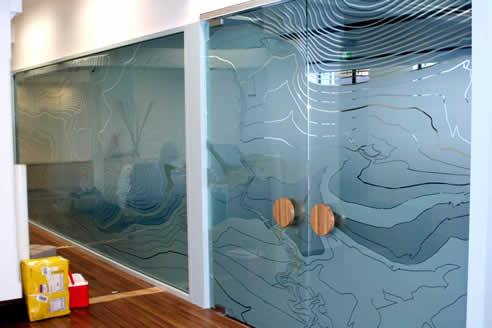 Office partitioning can be as simple or as innovative as you want it to be. At Paragon we can use standard 'off the shelf' films such as 3M Fasara to create privacy for glass dividing walls through to reception area feature walls using the latest in house digital print and computer cut vinyl technology. We cater for all budgets and office partitioning needs.
Examples of the 3M films we use;
3M Scotchcal 7725 Opaque Colours and special effect films.
3M Scotchcal 3630 Translucent Colours.
3M Frosted Crystal 7725SE-324.
3M Dusted Crystal 7725SE-314.
3M Sandblast 5525SE-324.
3M Haze 5525SE-314.
3M Fasara.
3M films are extremely durable and covered by a 3M manufacturer warranty (up to 15 years). The films can also be removed quickly and easily as needs change without any damage to the glass surface.
Some common Installations include;
'Frosting' of office partitions.
Reception area feature walls.
Meeting room feature walls.
Company Logos computer cut into 'frosting'.
Directional Signage.
Statutory Signage.
Paragon can assist you with;
Product advice and technical specification.
Cost estimates, site inspections and quotations.
Timely installation within deadlines through to complete project management.
After sales service.