Perth Home Window Tinting
Whether you're looking to increase the security, privacy or reduce the amount of heat in your home, trust PARAGON Perth Home Window Tinting. With a home window tinting solution to suit any living space, our range is amongst the largest in Perth's home window tinting industry. For example: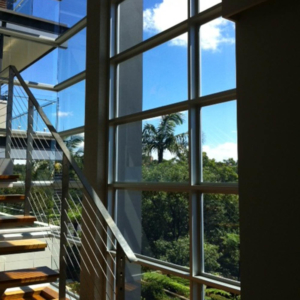 PARAGON specialises in residential window film the Perth's climate
Security window film – reduce smash-and-grab attacks and injury due to adverse weather with 3M security films with PARAGON Perth Home Window Tinting. Designed as a maximum security home window tint, it acts as a shield, impeding entry and helps hold glass together in the event of breakage. This means you and your family are safer from flying shrapnel in forced entry or adverse weather situations.
Privacy tint – increase the privacy of your internal or external glass surfaces. And with decorative patterns and colours, add a touch of design while you're at it!
Heat reduction film – with an array of heat reduction films available, reduce up to 99.9% UV and up to 72% heat entering by installing 3M home window tinting.
DIY Window Film in Perth
Alternatively, if you're looking for a small DIY option check out Frost and Co. Offering privacy, stylish designs, branding opportunities, and sunlight reflection, frosted windows are a great choice for your small home & office.
Contact Us
Speak to us and let one of our friendly sales professionals help you make a more informed choice. With multiple ranges of film for you to choose from, trust PARAGON Films for all your Perth window tinting needs.