Reduce Radiant Heat with Window Tinting
Problem:
The Facilities Manager from a chain of Westfields shopping malls approached Paragon with four major issues. Firstly he needed a window film that would reduce maximum radiant heat transferring through the skylight glass to improve customer comfort. Secondly he wanted the air conditioning to work more efficiently, which in turn will save on energy costs. Thirdly he wanted a film that would let enough natural light in, but reduce the amount of excessive light that was causing added eyestrain to customers and employees. Finally he wanted to protect the staff, and preserve the furnishings, fabrics, carpets, and artwork from the damaging UV rays of the sun.
Solution:
3M™ RE15SIARXL EXTERNAL SOLAR CONTROL FILM: 79-83% Solar Energy Rejection, 82% Glare Reduction & 99% U.V. Protection. The skylight was three-four levels from the floor, so an external application meant easier access to the glass with no interruption to the retail stores below & could be installed during normal working hours. The skylight glass already had an existing external film attached which had broken down over time & was not performing at all. Paragon successfully removed the film and thoroughly cleaned the glass before applying the new 3M film. Once the new film was applied Paragon sealed the edges with silicon, then applied a roofing tape for extra protection and a longer lifespan.
Results:
Since installing the 3M™ RE15SIARXL external window film, it has substantially reduced heat up to 83% increasing comfort for employees and customers, also in return, saving on energy costs. The effects of eye strain on the workers by reducing substantial amounts of glare, increasing their personal health, protected furnishings from damaging ultra violets rays & since the application, the staff and owners of the company, have reassurance with 3M's product performance with multiple benefits.
Benefits:
– Reduced glare & eye strain for employees & customers
– External application meant no interruption for businesses below
– UV protection for staff & fading of interior chattels
– More economical & suitable than installing blinds
– Savings on energy costs
Why Choose Paragon's 3M Prestige Window Films.
When it comes to protecting your home or office, you want to deal with a company you can trust and products you can trust. No one has more experience with window film. In 1966, 3M received the first patent for window film and they continue to invent new ways to make your life brighter. Today there are millions of square meters of 3M Window Films installed all around the world.
Increased comfort and energy savings.
On a warm day, the sun shining through your windows can drastically increase the warmth of a room. Not only do you become more uncomfortable, all that heat is costing you money when your air conditioner tries to keep up. By rejecting up to 79% of the sun's heat, our film can significantly reduce your energy bill.
Protecting your family's health.
Ultraviolet rays are the primary cause of skin cancer. By blocking up to 99.98% of the sun's UV rays, our films help protect your family.
Backed by 3M.
Paragon has been operating for over 30 years in the field of Window Films, and during this time our staff have been trained in the latest methods of application by 3M. We do not use contract labour and therefore you can be assured of professional work at all times. We have one of the most comprehensive commercial warranties you can get, should your window film need replacing.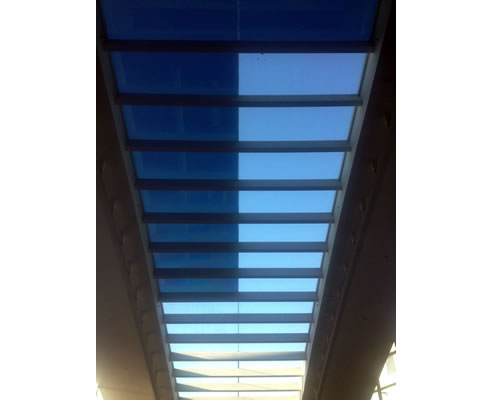 Paragon Window Tinting Provide Solution for an Unbearable Heat, Glare, U.V. & Energy Problem Using 3M™ External Window Films
A higher standard of energy reduction for a greener future.